Professor with ONE FOR ISRAEL'S Bible college, Dr. Oleg Korotkyi, lives right in the firing line by Gaza, in the city of Ashkelon. Together with his family and fellow believers, he has been delivering parcels of food and blessing to people in the neighborhood, living in fear and trepidation. The iron dome manages to disarm many of the missiles mid air, but not all of them. There are so many constantly being fired that some inevitably are missed and the whole area is testimony to the reality of war.
People living in communities near Gaza like Ashkelon endure constant sirens and danger, and going outside at all is an exercise in faith. If rockets start falling while you're driving, you're supposed to stop, get out of the car, lie on the ground with your hands protecting your head, and hope for the best.
Yesterday, Dr Korotkyi had a very narrow escape. Here's what he told us:
"A few hours after I finished delivering groceries I was returning home. I was not far from the house on the empty road, when I heard the howl of a siren again, and rockets began to fly. I stopped the car but then decided I needed to keep driving.

There was still hope that God would not allow the rockets to hit my car. I came home, parked the car, and entered the apartment.

Heavy shelling began again. Our house and our son's house were shaking from the explosions. A rocket hit a neighboring house near my daughter, and the building was badly damaged. The sounds of ambulances hurrying somewhere could be heard on the streets.

So that's how the usual time of delivering food went, which has opened doors to people previously unknown to us to hear the Gospel."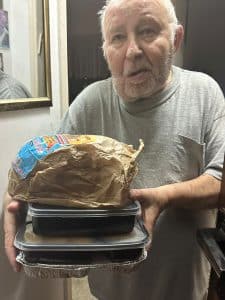 Dr. Korotkyi and his family are staying in constant danger, taking great risks to reach out to those in need around them. He has been offered free accommodation should he decide to evacuate, but he has chosen to stay among the terrified people in Ashkelon, delivering food and the strongest hope this world will ever know: Eternal life can be found in Jesus, the Jewish Messiah.