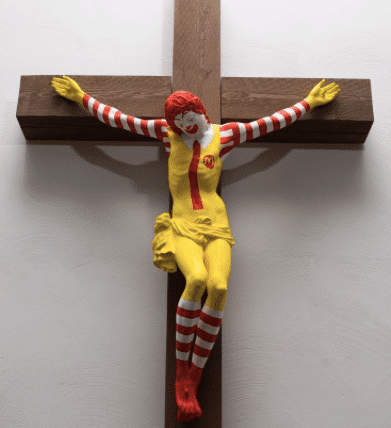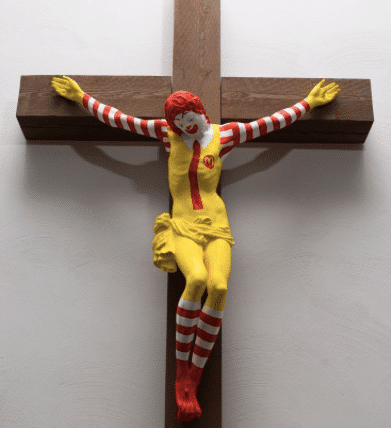 A controversial sculpture entitled "McJesus" is currently being exhibited in Northern Israel, and has caused riots.
It is valid to point out that consumerism is an unwelcome intrusion into matters of faith. Jesus himself was certainly not a fan of the mixing of marketplace and sanctuary. But a Finnish artist has stepped beyond the culturally acceptable boundaries with his exhibition in Israel including a pieced entitled "McJesus". The exhibition is based around the idea of consumerism in the church, but the artwork is presented in a manner designed to shock. 
Jani Leinonen's provocative sculpture of a crucified Ronald McDonald stirred up so much anger among the Christian community in Haifa that security forces had to be brought in to calm the crowd. In the end it was agreed that there would be screens blocking off the controversial pieces from general view, and a sign warning of the offensive content.
The Rev. Archimandrite Agapious Abu Sa'ada of the Greek Melkite Catholic Archeparchy said,
"We denounce the exhibition and the injury to the holiest symbol of Christianity by an institution that is supposed to serve citizens of all religions… what is suitable for Europe and the Christian population of Finland is not suitable for our community and cannot be met with understanding." 1
Sacred Goods?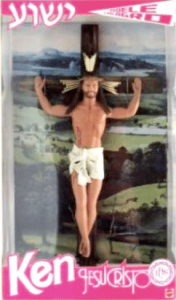 The exhibition entitled "Sacred Goods" drew a large crowd of hundreds of outraged Christians to protest. What might have seemed like a savvy poke at capitalism turned out to be an ill-calculated blunder, and a grievous offense to Israeli Christians.
The Middle East is another world. Even in the relaxed, multi-cultural city of Haifa, peace is precariously balanced on an unstated agreement of mutual respect, and willingness to live and let live. This critical (and some would say deliberately attention seeking) exhibition has rocked the boat in very volatile waters. Religious leaders had to appeal to the crowd to refrain from violence.
Culture Minister Miri Regev insisted that the museum remove the McJesus sculpture, but the Association for Civil Rights in Israel responded to her demands by saying that she had no right to do so.
In the West it is fairly commonplace for Christianity to be mocked, but here in the Middle East, matters of faith are not taken lightly. Still, the Christian leadership called for restraint:
"We as religious people are meant to steer away from violence. Therefore whoever thinks he can defend Christian values with violence is gravely mistaken."
For more study articles, videos and up to the minute ONE FOR ISRAEL news
follow us on
Facebook, Twitter, Instagram, YouTube
or subscribe to our blog and newsletter!

1. Haaretz, Haifa Catholic Church Leader Denounces McJesus Sculpture at Art Exhibit , Jack Khoury and Noa Shpigel, 
Photo by Chenyang Gao on Unsplash