Just as the common languages of Latin and Greek across the Roman Empire made it easy to share the gospel rapidly in the time of the early church, so the Arabic language opens doors for the gospel into many nations and people groups across the world today.
IN SHORT: Arabic is a very strategic language in which to share the Gospel in Israel, and also among our neighbors!
ARABIC SPEAKERS IN ISRAEL
There are approximately two million Arabic speakers in Israel alone, most of whom are Muslim, but there are also many Christian Arabs who have been living in the land for many generations – Catholics, Orthodox, Lutherans and Anglicans, Maronites, and more.
The Druze people and Bedouins in Israel speak Arabic, and over half of all Jewish Israelis have roots coming from Middle Eastern, Arabic speaking countries, so there are also plenty of Jews in Israel who understand Arabic.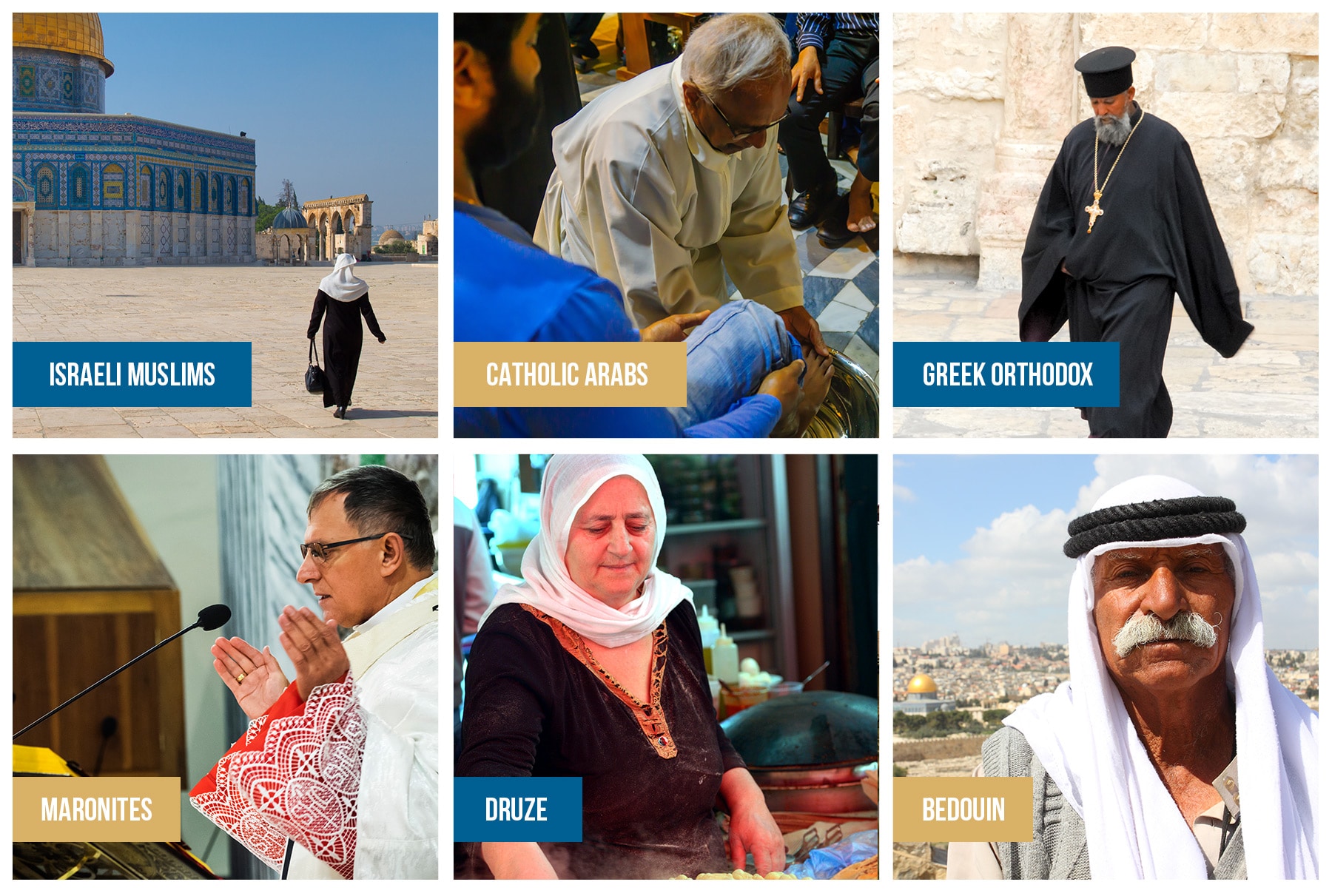 Israeli Muslims, Catholic Arabs, Greek Orthodox, Maronites, Druze, Bedouin
There are also Armenians, Arameans and Assyrians many of whom also speak Arabic (not necessarily as their first language) who can be found in Israel and around the Middle East.
Evangelistic materials in Arabic can reach all these different groups of people. Thanks to the internet, we can reach even beyond Israel's borders into places that Israelis are forbidden to go!
PALESTINIANS AND OUR MUSLIM NEIGHBORS
Of course, our neighbors almost exclusively speak Arabic: those in the Palestinian Territories, and in all the countries surrounding Israel.
When we make evangelistic videos and materials to reach Arabic speakers in Israel, anyone can access it, anywhere in the world. To our surprise, we have seen a high response to the message of Jesus coming from Gaza! Our Arabic evangelism team follows up those who contact us with questions and objections, and several have come to faith. Their stories and testimonies are incredible.
We love to share with you what God is doing in Israel and the Middle East, and to help you also reach out to the Muslims and Arabic speakers that you may have contact with.
---
THE BEST WAY TO BLESS ISRAEL IS WITH JESUS
So we have all these great and important videos, but how do we draw people to the website to watch them? We advertise with Google, YouTube and Facebook – meeting them where they are, so they can learn for themselves with confidentiality!
For each 2 cents (USD) you donate and designate for 'Evangelism', we can expose one more person to a gospel video! For example, if you give $200 a month, 10k people will be reached with the gospel of Messiah every month!