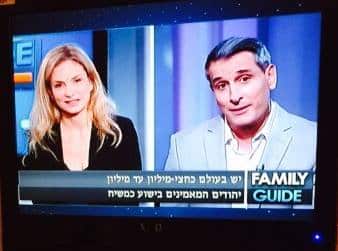 The largest media company here in Israel called us a few weeks ago, saying that they had noticed our material online, and that they wanted to work with us! They proposed to create a 12-24 episode series comprised of short videos interviewing us on a variety of subjects with adjoining articles about Messianic Jews. The series will be promoted on their media platform, with links to our evangelistic websites! Isn't that amazing?!
We met with the production team and shared with them in detail and with great openness about the Lord the other week. On Thursday, we went to their studios to record the first 5 episodes. Because of the great exposure this media company has, this series has the potential to be a major initial 'door' for Israelis to hear about Yeshua.
Eitan, Erez and his wife Sisi, along with another lady from our media team (who hopefully will also do a piece each on this series) were warmly welcomed by the production team. In the make-up room, one of Israel's main political commentators started a conversation with Sisi about who we were, and what is so special about Jewish believers in Yeshua. We had a very good time in the studio itself, with in-depth conversations with the interviewer (a well known Israeli anchor), and the camera crew. We have filmed a total of 5 episodes so far – the scripts were written by us together with the studio people:
1. WHO ARE MESSIANIC JEWS, AND WHAT DO THEY BELIEVE?
(This allowed Erez to set the stage to who we are and why we believe in Yeshua)
2. WHY CAN'T YOU BUY THE NEW TESTAMENT IN ISRAELI BOOKSTORES?
(Erez was able to share some of his testimony, and to talk about the beautiful teachings of Yeshua and his message of love)
3. WHAT ARE THE DIFFERENCES BETWEEN MESSIANIC JEWS AND CATHOLICS?
(Since many Jewish people immediately think of the Inquisition and persecution when they hear the name of Jesus, this helped us deal with many of the misconceptions)
4. WHY IS ISAIAH 53 NOT READ IN SYNAGOGUES?
(This allowed Eitan to open the 'Pandora's box' of Messianic prophecies!)
5. TALMUDIC LEGENDS ABOUT YESHUA
(The Jewish writings have some interesting stories about Yeshua, most of which are defamatory. Eitan was able to challenge the truth of these myths and deal with Jewish objections to Yeshua as Messiah)
Each of the episodes will be aired with an adjoining, more detailed article about each of the topics, and they will all be linked to our other websites. We cannot overstate the usefulness of the fact that these are published on this media company's websites – as they appear first in organic (non-paid) web searches. This means that the long-term exposure of these items is rather dramatic, and free. Please continue to be praying for us that these videos will encourage many Jewish Israelis to inquire about Yeshua and fall in love with Him! We will also ask for you prayers for protection, as no doubt, there will be significant back-lash from the 'anti-missionaries'.
To the glory of the King-Messiah
Erez